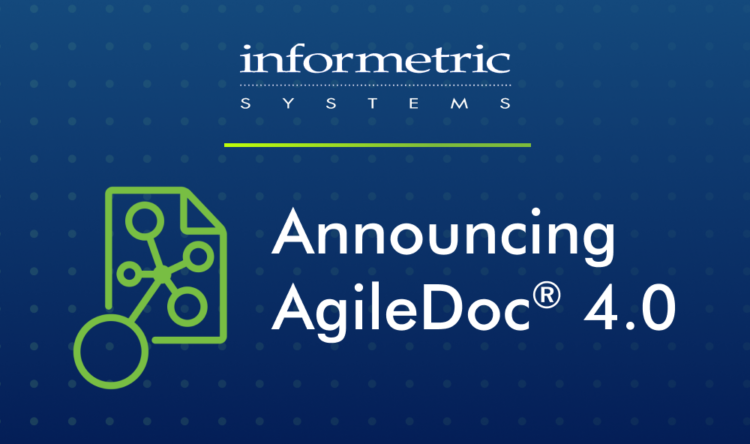 Announcing AgileDoc® 4.0
Informetric is pleased to announce AgileDoc® 4.0. This latest release of AgileDoc introduces increased scalability, versionable and reusable report configuration, and advanced image and diagram generation.
Native PDF & Microsoft Word Document Generation
AgileDoc 4.0 incorporates native PDF and Microsoft Word document generation. Server-side PDF generation operates independently of print drivers and client settings. There is improved scalability: reports are executed faster and can be much larger (up to 4000 pages). If a site wants to generate specifications by area, report size is not a limitation.
New Configurator with Library Manager
The new configurator in AgileDoc 4.0 introduces versionable, reusable report configuration. There are now Standard Libraries for AgileDoc, with connectors and pre-configured report sections.
Advanced Image/Diagram Generation
AgileDoc 4.0 uses a new and upgraded image software for functional enhancements in re-constructed control diagram generation. Sequential Function Charts (SFC), Procedural Function Charts (PFC), and Function Block Diagrams (FBD) generate much faster. With AgileDoc 4.0, DeltaV representation is more precise and more readable at lower resolutions.
Contact sales@informetric.com or fill out the form below for more information.
Request Information