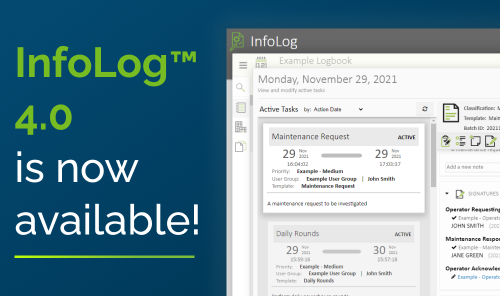 InfoLog® 4.0 is Now Available
Informetric Systems and Emerson Automation Solutions have expanded their partnership with the transfer of Emerson's DeltaV™ Logbooks and Syncade™ Logbooks to Informetric. InfoLog® 4.0 is the result of that partnership. The first InfoLog release is functionally identical and fully compatible with the most recent Emerson Logbooks releases for DeltaV and Syncade.
InfoLog is a browser-based application used to capture electronic records of operator activity as well as plan and track operator tasks during a shift. With InfoLog, operators can record information about daily operations, view a prioritized task list, and access a shift change dashboard that includes shift status and summary reports. InfoLog is suitable for any event-driven data entry, including operator rounds, laboratory test sample input and alarm annotation.
Visit the InfoLog product page to learn more or to request information.